3 Tips: Shooting Great Video at a Moment's Notice
by Sam Shepler on January 3, 2013
Making a really engaging and impactful video can take some serious planning and a sizeable chunk of time. But what happens when you have a great video content marketing opportunity tonight and lots of planning isn't an option?
Recently, Skyscope shot a last minute showcase video profiling Intelligent.ly, one of our favorite Boston startups, with less than 24 hours to plan. Our visit was for a session with Dharmesh Shah (one of our favorite Boston entrepreneurs) CTO and Cofounder of Hubspot.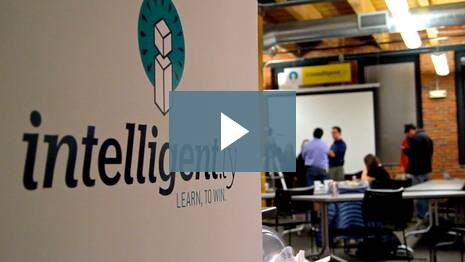 Don't let great video opportunities pass you by just because they seem too last minute. These three video production principles will have you creating quality video for your business at a moment's notice.
1. Have a few good interview questions ready
This is a last minute opportunity, so no time for scripts! Instead, use strategic interview prompts to elicit the story you are trying to tell. Make sure to highlight the "problem" and the "solution." Every story needs a conflict to be resolved.
2. Shoot with two cameras
Since it's last minute, you can't be sure what you're gonna end up with. Shooting multi-cam allows you to seamlessly combine answers from different parts of the interview so you can create the narrative flow you want.
3. Constantly keep your eyes open for relevant and interesting B-roll
Certain creative shots will be a no brainer. Others will only happen if you listen closely to your interviewee's responses and try and pick up on important spoken references that might have a impactful corresponding visual.
A well thought out plan will only make your videos better, but that's not always a luxury you will have. We're big believers in "progress, not perfection." Your customers love video – and they'll have no idea you were feeling hurried if you follow these three simple video production principles for your next business video opportunity…no matter how last minute!
---

Skyscope Creative is a web video production company specializing in business video production for technology innovators. Say goodbye to boring corporate videos. Look for our video production services in Worcester, Boston, Providence, and NYC.