Constructing a Creative Workspace
by Sam Shepler on October 11, 2012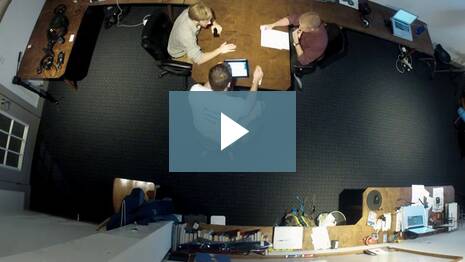 We believe that a creative workspace nurtures creative thinking.
One key to stimulating productivity and creative thought is to put your team in an environment that lends itself not only to individual workspaces but to a shared meeting space as well. Immediately after moving into our barren, 300 sq. foot office in July, we hatched a plan for a unified office design and aesthetic that would have good feng shui and get our creativity flowing.
Our temporary setup was a motley trio of wood and metal desks. Though their construction varied, they all managed to be equally uncomfortable, unorganized, and unattractive.
Big or small, we believe any productive and creative work environment is made up of:
[list_circle] [li]Independent personal workspaces[/li] [li]A shared space to meet as a team and collaborate with a whiteboard[/li] [li]A comfortable, casual space for meeting with clients and visitors[/li] [li]A clean, modern style with a consistent aesthetic[/li][li]Built-in "overflow" space with future employees in mind[/li] [/list_circle]
We knew it was going to be a challenge to fit all of these criteria into our startup space and keep the project on a startup budget. Luckily as entrepreneurs we love challenges. Taking a DIY approach was the perfect way to get great quality at a price we could afford. For around $500, we managed to get everything we needed from Home Depot. The next challenge would be to cut, stain and sand each piece of our intricate set up at our apartment and transport them back to the office where we would assemble them together like a giant jigsaw puzzle. Challenge accepted.
---

Skyscope Creative is a web video production company specializing in business video production for technology innovators. Say goodbye to boring corporate videos. Look for our video production services in Worcester, Boston, Providence, and NYC.