Video Production Quick Tip: Smile!
by Gabe Gerzon on November 8, 2012
Along with simplicity, story, and emotion, "smile" is one of the main video production ingredients for success that can take your web marketing videos to the next level.
Human psychology is such that we are programed to immediately like and trust people that smile or laugh genuinely. Trust and likability are important components to your marketing, so how do you get your talent to relax during a video shoot?
The best way to get people smiling is to be relaxed and humorous yourself. Web video production is serious business, but it can also be a lot of fun. When we have fun on our video shoots, so do our clients. And the final product is something everyone is happy about.
After production was a wrap, we made sure to shoot a quick, heartfelt testimonial from übersimple co-founder Brad Durbin because, as he said, the shoot was a lot of fun for everyone.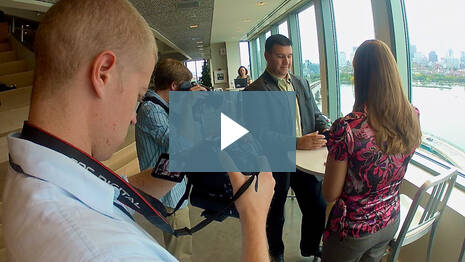 If your business is taking the DIY route with web video production… don't dismiss the moments your on-screen talent is smiling and laughing as "unprofessional." Including a moment or two of genuine personality can really forge the emotional connection with your viewer you're after.
---

Skyscope Creative is a web video production company specializing in business video production for technology innovators. Say goodbye to boring corporate videos. Look for our video production services in Worcester, Boston, Providence, and NYC.