Win Customers Over With Behind-the-Scenes Video
by Sam Shepler on April 4, 2013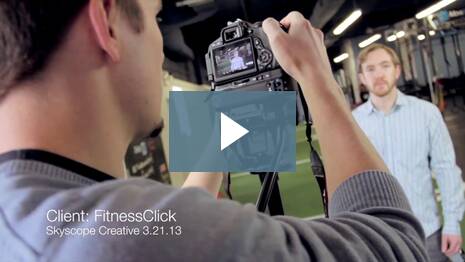 Creating compelling video content that gives prospects the inside view of your business is one of the simplest and most effective ways to demonstrate your expertise, showcase your talented and personable team, and build the trust that drives new business.
Here is a behind-the-scenes look at the Skyteam in action on a recent shoot for FitnessClick, a social media marketing startup for performance health clubs.
Behind-the-scenes videos have been utilized effectively by organizations such as IBM and GE to engage their audience, so why aren't more brands following suit?
Three common excuses why most organizations aren't utilizing behind-the-scenes video.
1. Perceived privacy & IP risk. Showing the behind-the-scenes is a departure from the old paradigm of business secrecy. For companies with real IP to protect, showing some of the "secret sauce" can seem like a risky proposition.
Some brands are "laggards" in terms of changing their attitude towards behind-the-scenes content. Brands should however, at least entertain the process and strive to find an ideal balance between establishing trust and protecting trade secrets. An outside consultancy can provide the perspective needed to find an ideal medium.
2. Lack of belief in the final product. Thinking their solutions are "unsexy" and customers will not be interested.
A common excuse for not giving customers the inside view goes something like " that makes sense if you are a creative services company, but we build enterprise software." This is perhaps the easiest challenge to solve, as every single business has some something that makes them unique, or else they would not still be in business. Maybe instead of your highly technical product development (which the end user may or may not care about) – you highlight your awesome implementation process and customer service.
3. Lack of production skill. Customers want to see behind-the-scenes, not hear about it in a press release or blog post, so video is the ideal medium to give them the inside look. Good video takes a specialist to produce however, and poor video, especially when it's a behind-the-scenes look at your company, can do more harm than good.
Skyscope Creative is a video communication consultancy with a fully integrated production department. If you see potential value in a series of behind the scenes videos of your enterprise, but need a solution to any (or all) of the three challenges discussed, get in touch.
Whether it's your design, development, customer service, or company culture, figure out what makes you unique and highlight it. Don't underestimate people's interest in seeing how your "secret sauce" is made. Let prospects and customers see the inside view – you'll stand out and win new business because of it!
Skyscope Creative is a web video production company specializing in business video production for technology innovators. Say goodbye to boring corporate videos. Say hello and get more of our news and views by connecting on Twitter and Facebook